Dear Members of the Emerson Community,
In honor of Rev. Martin Luther King, Jr., we offer a collection of words and events that create opportunity to think more deeply about MLK's work. As we enter into a week of change, knowing that every breath is a moment of transition, we look beyond the most revered and memorized quotes of singular humans to enter into a place of self- and systems-reflection, -analysis, and -accountability.
— Social Justice Center
**********
Marc Lamont Hill – author, social justice activist and organizer – @marclamonthill and www.marclamonthill.com
"Today, let us re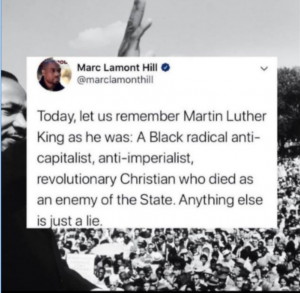 member Martin Luther King as he was: A Black radical anti-capitalist, anti-imperialist, revolutionary Christian who died as an enemy of the State. Anything else is just a lie." 
**********
SJC MLK Reflection – 2019
Each January, cities and towns, business and corporations, schools and universities mark the birthday of Martin Luther King Jr. In celebration, we dust off our fragmented memories and pieced-together understandings of King's life and legacy. Some communities hold church services that conclude with arms linked and slightly off-key renditions of "We Shall Overcome." In some places, we step out of our daily routine to do community service, demonstrating our commitment to a "day on and not a day off." And in other places, we come together to discuss society's most pressing problems against the backdrop of King's soaring speeches and compelling narratives – "I have a dream that one day…. A threat to justice anywhere is a threat to justice everywhere…. Darkness cannot stamp out darkness only light can do that…."
Once during the year, we lift King up, resurrecting him from our collective consciousness. In doing so, we also resurrect our better selves, our yearnings for justice, and our dreams of freedom. We make King kind and generous, patient and conciliatory, and a champion for inclusion in its most sanitized forms.
We choose to forget the King who shut down White clergy who opposed him with the power of his pen in a letter he wrote while in Birmingham Jail, the King who out of frustration exclaimed "Why We Can't Wait," and the King who called out "The Three Evils of Society" at the National Conference on New Politics in 1967. This speech is considered one of King's most revolutionary speeches but we hear little of it.
"We are now experiencing the coming to the surface of a triple prong sickness that has been lurking within our body politic from its very beginning. That is the sickness of racism, excessive materialism and militarism."
Some contemporary writers consider King's speech, "The Three Evils of Society," a prophetic commentary on the state of the United States today. They are connecting King's observations about excessive materialism to the present day weaponization of poverty, his remarks about racism to colonialism and the extractivist nature of our society, and his commentary on militarism to border imperialism that is taking place at our southernmost border and all over the world. For me, King's work is relevant today not because of his poetic calls for us to be better human beings but because of his deep and searing analysis of what prevents us from being better human beings and a better nation. The problem is that we are acculturated to the supremacy of some and the oppression of others, the flow of capitalism instead of the flow of compassion, and our most base urgings toward violence instead of our inner callings toward peace.
Instead of relegating King to a single page in a history book or to a celebration once per year, we need to consider what King's "radical revolution of values" would look like. What might happen if we all became "maladjusted to injustice"?
**********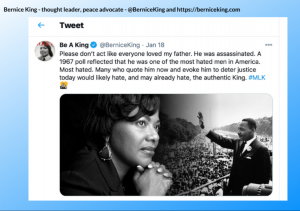 "Please don't act like everyone loved my father. He was assassinated. A 1967 poll reflected that he was one of the most hated men in America. Most hated. Many who quote him now and evoke him to deter justice today would likely hate, and may already hate, the authentic King." – Bernice King, Twitter @BerniceKing
Patrisse Cullors – artist, author, educator, organizer – @osopepatrisse and patrissecullors.com
Patrisse Cullors shares a reflection on what it means to feel connected to King in our current movements. Watch this brief video on Instagram @osopepatrisse

"I feel more connected to King now. Not as a big civil rights icon but more as a human being. Someone who probably loved to dance and sing and laugh and be joyful, but had to spend most of his time fighting for our freedom."
**********
Events
The People's Inauguration – January 21, 2021
Only we can bring our communities together, tend our wounds, and begin the labor of reckoning, reimagining and remaking our nation block-by-block, heart-to-heart. Will you join us? Visit https://thepeoplesinauguration.org
Radical Imagination for Racial Justice – January 22, 2021, 5:30 – 7:30 p.m.
In May of 2020 Radical Imagination for Racial Justice launched with a call to ALAANA+ / BIPOC artists and creatives living and/or working in Boston. Grounded in the belief that artists of color know what is essential for the freedom and liberation of their communities, RIRJ has sought to support artists' creative practices and their collaborative world building visions for racial justice. Please join us in celebrating the inaugural cohort of RIRJ artists! Friday, January 22, 5:30-7:30pm. Learn more about the RIRJ artists at https://www.imaginejusticeboston.org
**********
Emerson College
(617) 824-8528
www.facebook/SocialJusticeCtr