Dear Members of the Emerson Community,

Since the outbreak of COVID-19 was officially reported to the World Health Organization on December 31, reports of racist and xenophobic acts against Asians have increased substantially. Last month, Michelle Bachelet, the United Nation's High Commissioner for Human Rights, said, "The coronavirus epidemic has set off a disturbing wave of prejudice against people of Chinese and East Asian ethnicity." Since Michelle Bachelet's remarks in late February, reports of xenophobia have continued to increase. Let's be clear: COVID-19 is not a Chinese virus or a foreign virus. It is a virus deeply affecting communities around the world.
It is our collective responsibility to be in solidarity with people affected by racism and xenophobia. We must do more than appreciate the community messages sent by others or "like" social media posts that denounce racist acts. As one Emerson student said years ago, "I have the receipts…all of the messages that have been sent about racist acts and yet we are still experiencing racism." We must interrupt racist and xenophobic acts wherever and whenever they occur.
We must also recognize and honor the people who are still working outside of their homes in support of all of us. Let us do what is necessary to truly be in solidarity with others. Let our actions speak more than our words.
Sincerely,
———————————————-
Here a
re some of the things we can all do:
Speak up if you hear racist or xenophobic remarks and let people know the behavior is not acceptable. Concerns about COVID-19 are no excuse for racist behavior. We will speak up and you can, too.
Be an active bystander in solidarity with people from racialized and marginalized groups. If you can do so safely, interrupt harassment whether you witness it in person or online.

Express dissent if you notice something in the news or on social media that reflects racism and xenophobia. Draft a letter to the editor, leave a comment, or report it. At Emerson, you can share your experience anonymously to the Social Justice Center at www.emerson.

edu

/bias. You can also report incidents targeting Asians to the Asian Pacific Planning & Policy Council through their online reporting center: www.asianpacificpolicyandplanningcouncil.org/stop-aapi-hate 
Do your own work by deepening your knowledge of anti-racist practices. For a starting place, check out the Catalyst Project's 15 Ways to Strengthen Anti-Racist Practices at: https://collectiveliberation.org/15-ways-to-strengthen-anti-racist-practice
———————————————-
Friday, March 27, Noon
SJC Launches Facebook Live Series on Deepening Anti-Racist Practices

In support of community, the Social Justice Center will be hosting short live video talks about growing your own anti-racist practice. The talks will take place on Fridays at noon Eastern Time, with the first introductory talk launching this Friday, March 27, via Facebook Live at: www.facebook.com/socialjusticectr
———————————————-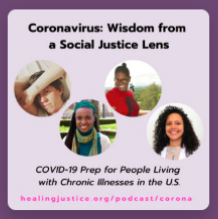 Coronavirus: Wisdom from a Social Justice Lens from Irresistible
, formerly known as the Healing Justice Podcast.
"We're bringing you medical information, invocations, grounding practices and dialogue from the March 7, 2020 webinar: COVID-19 (Coronavirus) Preparation for People Living with Chronic Illnesses in the United States. Unlike much of what we're seeing in the media and public discussion, the virtual gathering—organized in a week's time—centered the wisdom and life experiences of people who live with chronic illnesses and disability."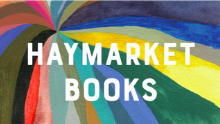 Ten Free E-Books from Haymarket Books
"At Haymarket Books, our mission is to publish books for changing the world. Now more than ever, the need to do just that is at the forefront of our minds. … Many of us will be turning to books in search of much-needed relief from constant worry as well as the tools to fight for collective liberation."
Emerson College
(617) 824-8528