And the people stayed home. And read books, and listened, and rested, and exercised, and made art, and played games, and learned new ways of being, and were still. And listened more deeply. Some meditated, some prayed, some danced. Some met their shadows.

And the people began to think differently. And the people healed. And, in the absence of people living in ignorant, dangerous, mindless, and heartless ways, the earth began to heal.
And when the danger passed, and the people joined together again, they grieved their losses, and made new choices, and dreamed new images, and created new ways to live and heal the earth fully, as they had been healed.
Words by Kitty O'Meara, Art by April Nemeth, from Little Korboose at https://littlekorboose.com
****************************
Greetings Everyone,
What an extraordinary period of time in which we are all living. Despite the rapid change and enormous upheaval that has occurred, we are somehow making our way through day-by-day. Students continue to learn, some in the safety of their homes and others as they still seek stability. Faculty continue to teach and finish up the semester after heroically transitioning their courses to an online delivery modality in a week's time. Staff continue to get vital work done from home, while juggling their roles as parents, teachers to their children, and remote service providers.
Y algunos miembros del equipo de trabajo, aquellos que son a menudo pasados por alto, los que logran llegar diariamente a su trabajo para que el resto de nosotros podamos hacer lo que tenemos que hacer. Son ustedes y las personas como ustedes quienes nos sostienen y apoyan en nuestras vidas. Para aquellos que traen la comida, y aquellos que la preparan, los que mantienen nuestros edificios funcionando y los que nos mantienen unidos, sepan que los veo y los aprecio. Siempre han sido y serán esenciales, no por las tareas que realizan sino por quiénes son y las formas en que se mueven en el mundo. Con todo mi respeto, les deseo lo mejor a ustedes y a sus familias, y rezo para que estén protegidos de daños o perjuicios siempre, pero especialmente durante estos momentos difíciles. Ustedes están en mi corazón.
As we move forward, I hope we come out of this haze with more than stories of discomfort, financial hardship, and grief. Perhaps, we will grow into better versions of ourselves. Perhaps, we will learn what it truly means to live in the context of
community. Perhaps, as Rev. angel Kyodo Williams says, we will "tip the balance toward greater justice."
In solidarity with you,
Sylvia
****************************
Special Message to the Class of 2020
Your final semester at Emerson certainly has not been what you anticipated or wanted. Instead of marching into an arena for your commencement on May 10, your graduation festivities will most likely take place among a small group of family and friends, some of whom will join you by video. Please know that your accomplishments are so much greater than could ever be fully expressed through any commencement ceremony. Your graduation is really about all of the incredible ways you have grown during your time at Emerson, the deep and enduring relationships you have made, the challenges you have overcome, and the ways in which you have called Emerson to do better and be better. Graduation is often talked about as a time when graduates prepare to launch independently into the world. Yet, we are living through a period of time in which acknowledgment of our collective interdependence is most important. In the weeks and months to come, you will be called to balance the excitement of this new beginning with the uncertainty and complexity of this time. You have what it takes. You have the creativity, the talent, and the fortitude to make it through. You will write, and perform, and produce, and serve, and speak into the world, leading the rest of us into a new and better way to live. To the Class of 2020, I wish you peace and joy as you celebrate all that you have become.
****************************
Social Justice Center Expanding its Reach
The Social Justice Center is not only doing work in the context of physical distance and social solidarity, we are also expanding our reach. We continue to provide support and advocacy to individuals and communities, work to advance equity and social justice, foster youth empowerment and creativity, and support the efforts of grassroots organizations who are coordinating  mutual aid projects in the Boston area. In addition, in response to the troubling uptick of xenophobic and discriminatory acts against members of the Asian and Asian American communities, we recently launched a new online platform called SJC LIVE for engaging with others about relevant social justice issues of the time.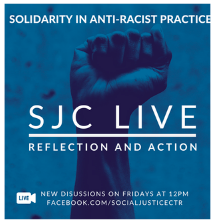 SJC LIVE is a virtual space for expanding our individual and collective capacities to manifest transformative social change. These Facebook Live conversations seek to center the people and work of racial justice movements, and call us into solidarity through anti-racist action. The videos from our five-part SJC LIVE series on anti-racist practices have been viewed by more than 2400 people, with our recent discussion on Abolition as an Anti-Racist Practice drawing more 600 viewers, including Emersonians out in the world as well as interested people with no connection to Emerson, from as far west as California and as far south as Florida. SJC LIVE is taking a brief hiatus but will be resuming soon with our next series focusing on Power, Violence, and Institutional Betrayals. In the meantime, all SJC LIVE videos can be found on our Facebook page at 
www.facebook.com/SocialJusticeCtr/videos
 and accessible transcripts can be downloaded at 
https://bit.ly/sjclivetranscripts
.
****************************
Additional Ways We Continue to Work in Support of Community

Power-Based Interpersonal Violence, Title IX and Clery: What It All Means and Why It Matters
In an effort to provide members of the community with a deeper understanding of campus-based responses to power-based interpersonal violence, the Social Justice Center is developing an online toolkit. This resource will provide information to increase understanding of power-based interpersonal violence (PBIV) and the implications for prevention strategies; the range of systems responses including traditional and trauma-informed approaches; information about various campus-based and legal methods of reporting PBIV (criminal, civil, and Title IX processes); the legal foundations of Title IX and the Clery Act, and how these regulations dictate and impact how colleges respond; the breadth of national and local context, including shifting trends related to federal Title IX guidance; as well as the key features of Emerson's Sexual Misconduct policies and processes. It is our hope that this toolkit will help dispel any misinformation, reduce confusion, answer some questions, and clarify the scope of institutional processes that are often unknown.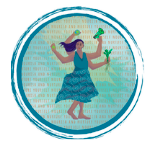 Healing & Advocacy Collective
In the midst of physical distancing, Healing & Advocacy continues to connect with people online. We are supporting survivors, offering virtual workshops and trauma-informed yoga, engaging via social media, and working on strengthening our infrastructure. If you would like to connect with Healing & Advocacy, feel free to email Greta and Melanie at advocate@emerson.edu.
Title IX Access & Equity
Title IX Access & Equity realizes the importance of being able to report incidents of interpersonal violence even when the College is operating remotely. Therefore, we continue to receive and respond to all reports of sex/gender-based harm consistent with the process outlined in the College's Sexual Misconduct Policy. This includes providing work and classroom accommodations, protective measures, interim measures, formal investigations, and informal processes. We continue to oversee the College's centralized review, investigation, and resolution process for all reports of interpersonal violence. In addition to responding to reports of harm, our office continues to provide monthly training workshops for all employees as well as workshops to various members of our community. We are also available to provide workshops on request. We are here when you need us. To connect with Pam or Ryan, please email 
titleix@emerson.

edu
.

Elma Lewis Center
The Elma Lewis Center continues to build and expand community partnerships, including supporting the work of community organizers adapting to the challenges of social solidarity during physical distancing. The Elma Lewis Living Stories project is ongoing, including research, community members' sharing stories for the archive, and the Call to Artists. Youth programs and projects continue after shifting to virtual sessions in mid-March. The Creative Community Network youth held workshops on mutual aid and connecting with Boston-area activists. Youth LEAD participants engaged in group learning about the community impact of COVID-19 on hyperlocal and national levels. And the Massachusetts Temporary Protection Status Youth Committee participated in multimedia workshops to create a YouTube Channel, an advocacy magazine, and hosted Boston Experimental Theatre documentary showings and talkbacks. Our campus partner Jumpstart transitioned from providing in-school support with preschool partners to supporting teachers and families with at-home learning. The ELC is also piloting virtual music and dance events for workers most impacted by COVID-19 to provide a space of joy in the midst of hardship. You can reach the ELC by email at 
elmalewiscenter@emerson.

edu
.

Identity-Based Harm (Bias) Incident Reports
This academic year, we received 62 reports of identity-based harm. Although this reflects a slight decrease in the number of reports from the 2018-2019 academic year (68) we must also take into context the mid-semester shift to online learning this spring. The classroom continues to be reported as the highest location in which incidents of identity-based harm occur. Experiences of harm related to ethnicity/culture, race, and gender identity/expression continue to be the most reported. As concerns about COVID-19 increased, there was an uptick in concerns about the targeting of Emersonians who identify as Asian or Asian American while out in the Boston area. Some of this information was shared outside of the identity-based harm reporting process. Aggregate data for the 2019-2020 academic year will be updated to reflect incidents received through the formal end of the semester.

Title IX Access & Equity Reports
During the 2019-2020 academic year, 85 reports of violations of the College's Sexual Misconduct Policy were received by Title IX Access & Equity. Reports include a range of behaviors and are not limited to sexual assault. Of the 85 reports, Title IX Access & Equity received requests from 6 reporting parties for investigations. All requests were moved forward for investigation. At the request of students or based on an assessment by the staff of Title IX Access & Equity, 20 instances of accommodations, interim measures or protective measures were issued. These measures include some singular or combination of protective measures, including but not limited to No Contact Orders, Stay Away Directives; Third-Party accommodations, and work and classroom accommodations.
****************************
From Haymarket Books

The Pandemic is  Portal – A Conversation with Arundhati Roy, Hosted by Imani Perry
www.haymarketbooks.org/blogs/130-arundhati-roy-the-pandemic-is-a-portal
In her latest essay, "The Pandemic Is a Portal" — from her forthcoming Haymarket Books publication Azadi: Freedom. Fascism. Fiction. — Arundhati Roy writes:
What is this thing that has happened to us? It's a virus, yes. In and of itself it holds no moral brief. But it is definitely more than a virus. Whatever it is, coronavirus has made the mighty kneel and brought the world to a halt like nothing else could. Our minds are still racing back and forth, longing for a return to "normality," trying to stitch our future to our past and refusing to acknowledge the rupture. But the rupture exists. And in the midst of this terrible despair, it offers us a chance to rethink the doomsday machine we have built for ourselves.
****************************

Emerson College
(617) 824-8528