Dear Members of the Emerson Community,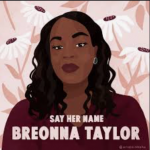 This community update was written before yesterday's ruling by Attorney General, Daniel Cameron, regarding the indictment of officers involved in the shooting and death of Breonna Taylor. In many ways, the content of much of this newsletter feels out of sync with this moment and what some members of the Emerson Community may be feeling or needing in this moment. Regretfully, there is no measure of consolation that I can offer to sufficiently address the pain that some of us are experiencing today.
I don't know all of what happened in Breonna Taylor's apartment that night. We may never know.
What I do know is that Breonna Taylor was not a suspect of a crime. She was an EMT who was working to save the lives of people during a pandemic.
What I do know is that she was sleeping in her apartment when all hell broke loose resulting in six shots being fired into her body.
What I do know is that she is one of a long list of unarmed Black people who have been killed as a result of state sanctioned violence.
What I do know is that I am grieving for her, her family, communities of color, and those of us who don't have the privilege of safety while we sleep, run, drive or even breathe.
Today, I will grieve. Tomorrow, I will continue to work for change.
– Sylvia
The Social Justice Center has a number of new programs that are available to the Emerson Community.

Panic & Patience Podcast – Building Community Through Art, Education, and Social Justice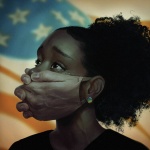 The Panic & Patience Podcast series is hosted by Jae Williams, Director of Special Projects in the Social Justice Center. This series highlights the work of artists, educators, entrepreneurs, athletes, and community leaders as they explore issues affecting marginalized communities, and how we as leaders can create space and support efforts of change. "This is a space where Black and Brown folks can see themselves and their experiences reflected all of their inherit brilliance, fullness, and power," said Sylvia Spears, Vice President for Equity & Social Justice. This series is anchored in an understanding that this work is an urgent ever-changing process of dismantling social constructs, unconscious bias, and systematic oppression, while also working to build for a future that encourages cultural humility, inclusion, and community growth. Panic & Patience is available on Apple Podcasts, Spotify, and Google Podcasts. Season One is available at Panic & Patience on Youtube. Feel free to check out Jae's personal Panic & Patience website: 
https://bit.ly/ourpanicandpatience

Radical Guide for Social Justice
A collection of texts, videos, podcasts, and other multimodal materials gathered by members of the Social Justice Center as we work to deepen our individual knowledge and collective practice. We share this collection for those who are also interested in doing their own work for social justice. These topics provide an entry point for further exploration into social justice, anti-oppression, liberation, and organizing movements. As you expand your interest in any particular area, we encourage you to take an intersectional approach by exploring other topics as well. Visit 
https://guides.library.emerson.edu/radical
**********
We're still available and can connect via email, phone, and through video calls! Some additional ways to connect are though: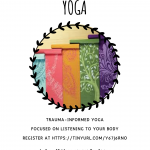 Trauma Informed Yoga
Focused on listening to your body.
Wednesdays from 6-7 PM EST on Zoom
Register at: https://tinyurl.com/Y67j6RN0
Support Group
A space for folks to gather who have experienced PBIV.
For more information or to join, email advocacy@emerson.edu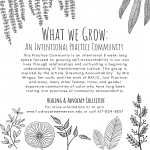 What We Grow: An Intentional Practice Community
This Practice Community is an intentional 8 week-long space focused on growing self-accountability in our own lives through relationships and cultivating a beginning understanding of transformative justice. This group is inspired by the article 'Dreaming Accountability' by Mia Mingus, her work, and the work of BATJC, Just Practice, and many, many other femme, trans, and gender expansive communities of color who have long been rooting into practices of community accountability. For more information or to join, email advocacy@emerson.edu
**********
A Book Club Won't Save Us: Study, Act, Reflect, Repeat
What does principled struggle mean? More importantly, why does it matter? Join Samantha Ivery

, Director of Diversity & Equity Initiatives in the Social Justice Center,

in a 4-week series to begin a praxis of "study, act, reflect, repeat." Participants will meet weekly for a month to

:
Take personal responsibility for increasing our own awareness and knowledge base of societal norms linked to systemic oppression;

Develop critical thinking muscles to integrate dissonant themes into practice;
Build 

a

repertoire of reflective practices;

L

eave motivated to repeat.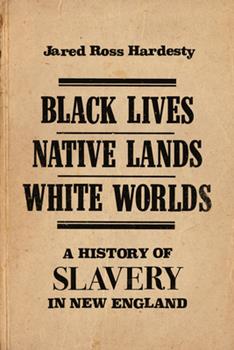 SERIES #

1
Black Lives, Native Lands, White Worlds: A History of Slavery in New England
(Jared Ross Hardesty)
O

ctober 6, 13, 20, 27 – EVENING 5-6PM
SERIES #2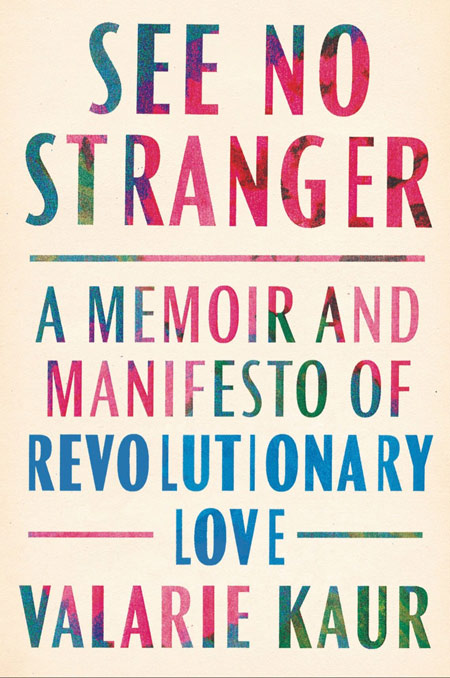 See No Stranger: A Memoir and Manifesto of Revolutionary Love
(Valarie Kaur)
November 10, 17 & December 

1

, 8 – AFTERNOON 12-1PM
November 10, 17 & December 

1

, 8 – EVENING 5-6PM
Registration: Click the links above for the dates and time slot of your choosing. P
lease contact samantha_ivery@emerson.edu for questions or more details.
What we have been reading and thinking about…

The Four Parts of Accountability: How To Give A Genuine Apology Part 1
How To Give A Genuine Apology Part 2: The Apology – The What and The How
Mia Mingus is a writer, educator and organizer for disability justice and transformative justice. Read at https://leavingevidence.wordpress.com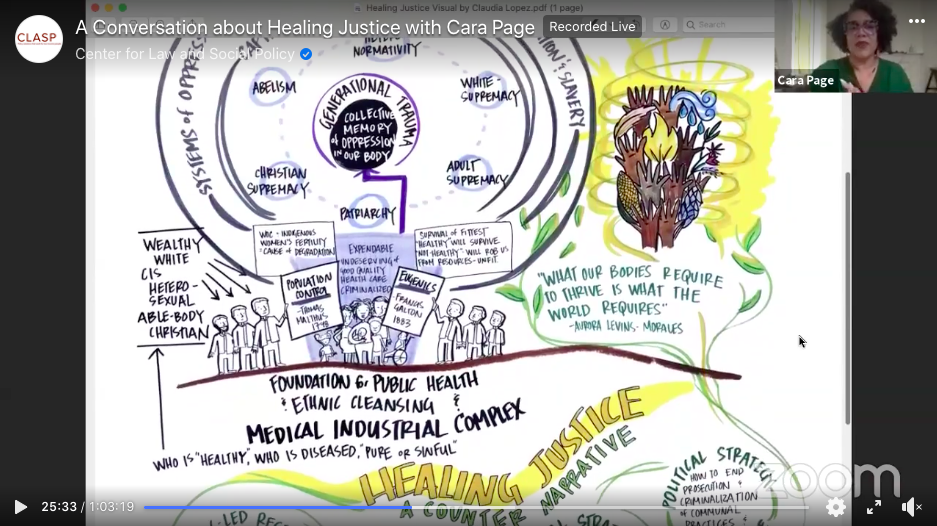 A Conversation About Healing Justice with Cara Page
Cara Page is a Black queer feminist cultural/memory worker, curator, and organizer. She joins Isha Weerasinghe, a senior policy analyst focused on mental health and works on CLASP's (Center for Law and Social Policy) youth team. Watch at 
https://www.facebook.com/watch/live/?v=1420060828384539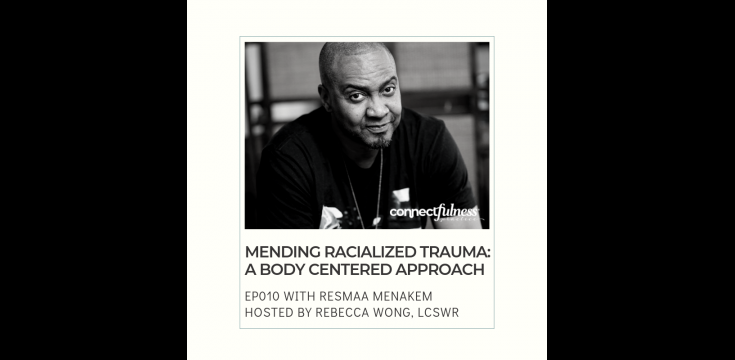 Connectfulness Podcast 010: Mending Racialized Trauma: A Body Centered Approach with Resmaa Menakem
Rebecca is joined by healer, author, and trauma specialist, Resmaa Menakem. Resmaa helps people, communities, and organizations find strength and healing that's both holistic and resilient. Listen at 
https://connectfulness.com/episode/010-resmaa-menakem-racialized-trauma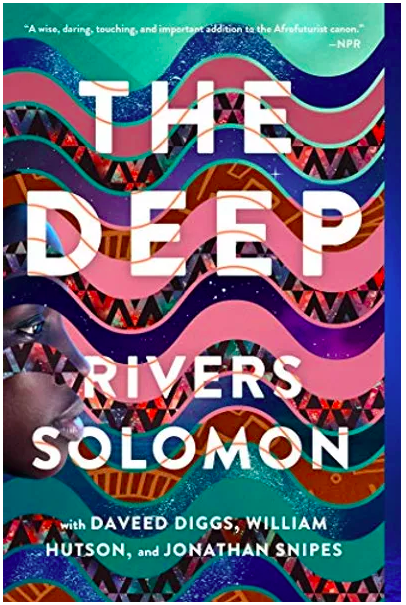 The Deep
 by Rivers Solomon, with Daveed Diggs, William Hutson, and Jonathan Snipes
The water-breathing descendants of African slave women tossed overboard have built their own underwater society—and must reclaim the memories of their past to shape their future in this brilliantly imaginative novella inspired by the Hugo Award nominated song "The Deep" from Daveed Diggs' rap group Clipping. More info at 
https://www.riverssolomon.com/thedeep