A Message for the Prophets, Truth Tellers, Advocates, Activists, and Organizers Among Us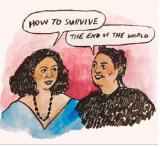 This week, I had a chance to listen to the new podcast episode from How to Survive the End of the World: Learning from the Apocalypse with Grace, Rigor, and Curiosity, released by adrienne maree brown and Autumn Brown. These formidable sisters produce a powerful series that is actually not about the apocalyptic nature of our current worldly experience. Instead it explores the end of the world as a shift in the way we understand the present.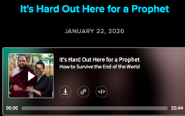 The new episode, "It's Hard Out Here for a Prophet," featuring Reverend angel Kyodo Williams and Lama Rod Owens, really spoke to me. In this episode, Reverend angel talks about prophetic praxis, or the practice of telling the truth of these times. She skillfully reframes the notion of prophets from the deified who speak into the future to those of us who speak to what is happening right now. Lama Rod notes that, in this sense, he, too, is a prophet as a truth teller. He also reminds us that the prophets of the past got stoned to death, hence the episode's title, "It's Hard Out Here for a Prophet."
The power of Lama Rod's comments fell hard on me in the days following the nation's annual celebration of Martin Luther King Jr. Despite the fact that history has made Dr. King's ideas more palatable to the masses, the reality is that he spoke the discomforting truth of his time. His commentary on racism, white supremacy, militarization, and capitalism were perceived as a threat to the status quo. These same ideas fifty years later continue to be viewed as extreme and disruptive, even among those who view themselves as liberal.
Reverend angel astutely reminds us that while some of us are working to reveal the truth of this time, others are working to "hold the veil down." Her words remind me of the arduous nature of social justice work and the depth of resistance there is to the truth that prophets tell. I certainly don't claim to be a prophet, but I know in speaking truth I, too, might get "stoned," silenced, ostracized, and accused of colluding. The resistance is real and Lama Rod is right. It is hard out here.
So, how do we continue to speak truth in the face of those who don't want the truth unveiled? How do we hold onto the truth of these time regardless of the resistance and the risks? How do we persevere when systemic change seems so far out of reach?  Sadly, I don't have any answers to these questions.
The only thing I know for sure is that we must continue to give voice, we must continue to speak the truth of these times, and we must continue to engage in the prophetic praxis to which Reverend angel refers.
To all of the prophets, truth tellers, advocates, activists, and organizers, your work is not in vain and your voices are not lost in the wind.  Your truth-telling travels across time and space to other likeminded people, bringing light into darkness so that others will know that they are not alone. And standing on the shoulders of imaginaries, like Octavia Butler, you, my friends, are speaking truth into a new future.
"The time for radical liberation is now." — Reverend angel Kyodo Williams
Notes: Reverend angel Kyodo Williams is a writer, activist, and ordained Zen priest. She is author of Being Black: Zen and the Art of Living with Fearlessness and Grace (2000), and co-author of Radical Dharma: Talking Race, Love, and Liberation (2016). Lama Rod Owens is an author, activist, and authorized Lama (Buddhist Teacher) in the Kagyu School of Tibetan Buddhism and is considered one of the leaders of his generation of Buddhist teachers. He is co-author of Radical Dharma: Talking Race, Love, and Liberation.
___________________________

Bias and Identity-Based Harm
Since the Bias Incident Response process was developed in 2015, the Social Justice Center has heard from community members of more than 180 experiences of bias, micro-aggression, and identity-based harm. These are personal and collective stories of deep hurt for individuals in our community, and also include incidents like those that occurred on campus over the past two weeks.
Can you imagine what it might feel like to wake up to anti-Semitic or racist graffiti written all over your neighborhood or on the front door of your home? This is what happened at Emerson last week. Can you imagine how scary it might feel to know that your community, your cultural or religious group, has been targeted? This is what happened here last week. Can you imagine how it might feel to have your sense of safety and belonging shaken? This is what happened last week.
While there are certainly members of the community who may be most impacted, I would hope that all of us are deeply affected by what has happened. In so many ways, this is our neighborhood and the members of our community have been hurt. In the face of these incidents, how might we not only oppose those who seek to unsettle and cause hurt, but restore our community and become our better selves?
___________________________
Community-Centered Grants 2020
The Elma Lewis Center is pleased to announce the Spring 2020 project awards for the Community-Centered Grants for social justice work that highlight community-based knowledge, needs, and aspirations. Among the 14 applications, grants were awarded to four projects:
___________________________
What Inspires Us…

Brilliant Imperfection: Grappling with Cure by Eli Clare
"Overcoming disability. Overcoming is a peculiar and puzzling concept. It means transcending, disavowing, rising above, conquering. Joy or grief overcome us. An army overcomes it's enemy. Whoopi Goldberg overcomes dyslexia… overcoming mystifies me…that concept requires dominating, subsiding, defeating something." – Eli Clare
"Transformation gives us more choice and agency, while helping us to ask and answer the deep questions of creating meaning and navigating life. It allows us to develop more trust, coordination, and love. We can be with ourselves and others with more presence and attention. It helps us build the skills that trauma and oppression did not teach us – and to use those skills toward equity, interdependence, and a radically different relationship to the planet. It is transformation that sustains over time." – Staci K. Haines
Emerson College
(617) 824-8528