A Message from Sylvia Spears, Vice President for Equity & Social Justice

I have come to recognize the month of April as a time when tensions rise, student resilience wanes, and the hurts that have been held silently all year spill over into the community. What occurs is not related to workload stressors or the amount of GRIT students demonstrate. It is about the cumulative impact of daily conditions that slowly eat away at students' sense of agency and their ability to maintain a sense of control over their lives and their well-being. What we have seen in the last weeks of this semester is about much more than a single incident or even individual acts by members of our community. This moment is about the impact of structures and systems that remain invisible to most of us and yet have an impact on all of us. It is a reflection of what is in the air that we breathe. For some of us, the air is toxic. Simply put, students have reached their human limits.
So now what? Do we turn our eyes away from students' concerns out of our own anger, hurt, or shame? Do we reject the validity of students' pain because we don't like the way the message was delivered? Or do we sit in the discomfort of it all and work to right the real wrongs? I suppose one could argue that any of these responses is appropriate but only the last one will move us forward and toward a more reconciled and compassionate community.
_____________________________________________________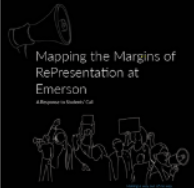 Mapping the Margins of RePresentation at Emerson: A Response to Students' Call

The Social Justice Center recently released Mapping the Margins of RePresentation at Emerson: A Response to Students' Call. Through the analysis of existing institutional data, this Social Justice Center study reveals disproportionate representation of specific student demographic groups in Emerson service or program interaction based on their representation in the Emerson community, showing systemic roots of students' experiences of marginalization. These findings suggest that specific phenomena exist that may be having an adverse impact on specific student communities. 

Although the study did not seek to determine causal or correlational relationships, it is our hope that this book will serve as a catalyst for the Emerson community to examine what may be causing disproportionate representation and to create substantive change for students who are most impacted. In Mapping the Margins of RePresentation, you will find information about why we did this project, who was involved, how we approached our work, and what we found, situated in the context of national data, Black Feminist Theory, Transformative Justice, Critical Trans Politics, Abolition, and Decolonization Theory that reflects a broader structural context. "We hope that this work honors students' lived experiences," said Sylvia Spears, Vice President for Equity & Social Justice. "The implications of these findings are significant. We encourage members of the community to read the book, sit with its impact, do your own work, and move toward ways of doing things that create the possibility of freedom and liberation for everyone." Limited copies of the book may be available by contacting sjc@emerson.edu.

_____________________________________________________
Bias Incident Reports: Annual Update

This academic year, we received 48 reports of incidents of bias, which reflects a drop in the number of reports from the 2017-2018 academic year (68). There was a slight decrease in the number of bias incident reports received from students and a slight increase in the number of reports submitted by staff and faculty.

Faculty continue to be most reported as individuals engaging in bias. Bias incidents related to ethnicity/culture, race, and gender identity/expression continue to be the most reported types of bias. In the past two weeks, there has been a significant uptick in the number of bias incident reports received. Aggregate data for the 2018-2019 academic year will be updated to reflect bias incidents received through Commencement.

_____________________________________________________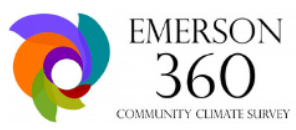 The Emerson360: Community Climate Student Survey, which focuses on student perceptions of general campus climate dimensions as well as topics related to power-based interpersonal violence, was administered during the fall semester. The survey had a 9% response rate, which is significantly lower than the response rate for the 2014 survey (32%). The following is a high-level summary of the findings from this year's Emerson360: Student Survey.

The highest positive score (94%) was in response to the statement, "Diversity and inclusion are important values to me." Other high positive scores were in the bystander intervention dimensions, with 83% of participants responding positively to the statement, "I would report senior leadership, staff, or faculty who engage in power-based interpersonal violence;" 80% responding positively to the statement, "I would speak up to other students who make inappropriate or hurtful comments or gestures;" 78% responding positively to the statement, "I can recognize signs of power-based interpersonal violence;" and 74% responding positively to the statement, "I would report others who engage in power-based interpersonal violence."
Of greatest significance this year is the drop in the percentage of overall positive scores in comparison to the 2014 survey. The overall percentage of positive scores dropped from 64% in 2014 to 53% in 2018. The lowest positive scores were related to statements regarding bystander attitudes. Scores related to fair treatment dropped from 70% positive in 2014 to 56% positive in 2018. In addition, knowledge of Title IX polices dropped from 66% positive response in 2014 to 59% in 2018. In relation to on-campus locations, 12% of student survey participants responded "yes" to the question, "Has anyone ever displayed behavior that made you feel afraid for your personal safety, feel fear, or alter your daily activities?" 5% of participants indicated being in a relationship with someone who tried to control them, and 17% of survey participants indicated that someone had made unwelcome sexual advances toward them or unwelcome requests for sex.
_____________________________________________________
The Elma Lewis Center Relocates to New Space at 148 Boylston Street

The Social Justice Center recently celebrated the upcoming relocation of the Elma Lewis Center to a new street level space at 148 Boylston St. The celebration, primarily for Boston area community groups, was standing room only for the entirety of the 3-hour event with an estimated 150 people in attendance. Local community members, some Emerson staff and faculty, security guards, and students filled the space. Local spoken word artists, singers, and other performers brought energy and joy to the event. We are pleased to share that some friends, former students, and family members of Elma Lewis '43, were also in attendance — Barry and Sandra Gaither, Sandi Bagley, Larry Blumstack, and Kafi Meadows (Elma Lewis's great niece) and her daughter. We expect to host another open house in the early fall semester next year.


_____________________________________________________
Title IX Update

During the 2018-2019 academic year, 77 reports of violations of the College's Sexual Misconduct Policy were received by Title IX Access & Equity. Reports include a range of behaviors and are not limited to sexual assault. Of the 77 reports, Title IX Access & Equity received requests from 8 reporting parties for investigations. All requests were moved forward for investigation. At the request of students or based on the College's own assessment, 21 instances of accommodations, interim measures or protective measures were issued. These measures include some singular or combination of interim suspensions, No Contact Orders, Stay Away Directives, housing accommodations, and classroom accommodations.
The search for a Deputy Title IX Coordinator/Investigator continues. To date, 31 applicants have been received, 10 candidates have been considered, and 4 have been invited to participate in first-round interviews. No candidates have progressed to on-campus interviews. Despite advertisement in national outlets and active recruitment, we have not identified candidates with sufficient Title IX investigation experience.