Ryan Milligan, Deputy Title IX Coordinator & Investigator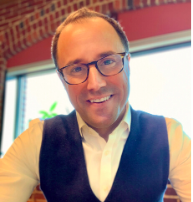 We are pleased to announce that Ryan Milligan will join the Emerson community as the new Deputy Title IX Coordinator & Investigator beginning January 6, 2020. We wish to extend our sincere gratitude to the Emerson students, staff, and faculty who were engaged and provided feedback during this search process.
Ryan joins Emerson after serving in the Office of Equal Opportunity at Tufts University where he was the lead Title IX investigator. Prior to Tufts, Ryan spent nearly 10 years as an attorney for the U.S. Department of Education with  the Office for Civil Rights, addressing issues related to all forms of discrimination including sexual misconduct.
In addition to his deep investigative experience in Title IX and his commitment to trauma-informed practices, Ryan brings a background in initiating university-wide partnerships and initiatives to address climate concerns in athletics, fraternity and sorority life, student groups, and study abroad programs. He is also skilled in policy review and the development of training programs for campus communities. In the role of Deputy Title IX Coordinator and Investigator, Ryan will assist with the coordination, response, investigation, and resolution of reports of violations of the College's Title IX policies.
Please join the Social Justice Center in welcoming Ryan to the community this January.
Jae Williams, Director of Special Projects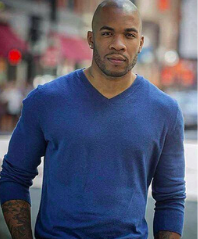 We are also excited to share that Jae Williams, Emerson '08 and '16, has joined the Social Justice Center as Director of Special Projects. Jae brings a range of talents to this position including expertise as a content strategist, previous experience launching and growing social action efforts, and a deep commitment to supporting access to education and the arts for communities who are often marginalized.Most recently, Jae served as affiliated faculty in Communication Studies where he taught digital storytelling, argument and advocacy, and public affairs. He also has substantial professional experience in content creation and strategic communications, having served as founder and CEO of Culture Key Agency, where he worked with a range of social action organizations as they developed their social media and marketing strategies. Jae is also the founder and executive director of Forever Ink Foundation, an organization created to support Boston area community members in their exploration of creative experiences through the visual arts. The organization's programs include the Forever Ink Mentoring program, the Reel Life Experience, and the Celebration of the Arts Red Carpet Experience. Among other roles, Jae previously served as Director of Marketing and Content Strategy for the Toronto based company OneClass, and as Associate Director of Content Strategy at Emerson.We are thrilled to have Jae join the Social Justice Center. In his role as Director of Special Projects, Jae will be responsible for moving select SJC projects from ideation to implementation. He will also work in collaboration with the Elma Lewis Center to deepen relationships and partnerships that advance material change in the Boston community. Please join us in welcoming Jae back to Emerson.
**************************
Community-Centered Grant Application Deadline December 5, 2019
The Elma Lewis Center invites students, staff, faculty, and off-campus community members working with social justice projects or courses to apply for a Community-Centered Grant. This grant is intended to support partnerships rooted in authentic relationships and trust that center community-based knowledge, needs, and aspirations. For more information contact 
elmalewiscenter@emerson.

edu
.
**************************

Freedom Friday
Caring for yourself is an act of resistance.
Friday, December 6, noon, Common Ground, 120 Boylston Street, 10th Floor
Coloring books are not just for kids. Coloring can reduce stress, stimulate creativity, and foster mindfulness. Come color and leave with supplies to develop your own relaxation practices.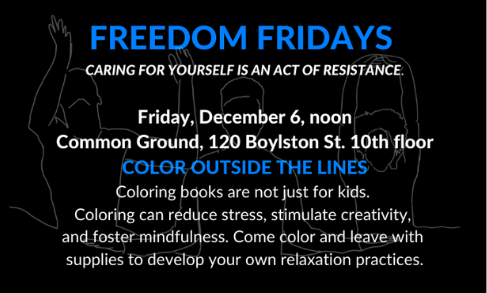 **************************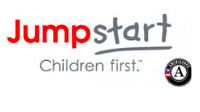 Jumpstart provides children with the resources and education necessary to enter kindergarten prepared. Jumpstart Corps Members work with a team of their peers from Emerson to provide two weekly sessions to a classroom in the greater Boston area, as well as providing additional assistance to the teachers in their classroom. For more information contact 
taylor.gourdeau@jstart.org
 or stop by the Elma Lewis Center at 148 Boylston St.
Emerson College
(617) 824-8528
Facebook/SocialJusticeCtr