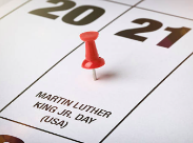 MLK Reflection 
Each January, cities and towns, business and corporations, schools and universities mark the birthday of Martin Luther King Jr. In celebration, we dust off our fragmented memories and pieced-together understandings of King's life and legacy. Some communities hold church services that conclude with arms linked and slightly off-key renditions of "We Shall Overcome." In some places, we step out of our daily routine to do community service, demonstrating our commitment to a "day on and not a day off." And in other places, we come together to discuss society's most pressing problems against the backdrop of King's soaring speeches and compelling narratives – "I have a dream that one day…. A threat to justice anywhere is a threat to justice everywhere…. Darkness cannot stamp out darkness only light can do that…."
Once during the year, we lift King up, resurrecting him from our collective consciousness. In doing so, we also resurrect our better selves, our yearnings for justice, and our dreams of freedom. We make King kind and generous, patient and conciliatory, and a champion for inclusion in its most sanitized forms.
We choose to forget the King who shut down White clergy who opposed him with the power of his pen in a letter he wrote while in Birmingham Jail, the King who out of frustration exclaimed "Why We Can't Wait," and the King who called out "The Three Evils of Society" at the National Conference on New Politics in 1967. This speech is considered one of King's most revolutionary speeches but we hear little of it.
"We are now experiencing the coming to the surface of a triple prong sickness that has been lurking within our body politic from its very beginning. That is the sickness of racism, excessive materialism and militarism."
Some contemporary writers consider King's speech, "The Three Evils of Society," a prophetic commentary on the state of the United States today. They are connecting King's observations about excessive materialism to the present day weaponization of poverty, his remarks about racism to colonialism and the extractivist nature of our society, and his commentary on militarism to border imperialism that is taking place at our southernmost border and all over the world. For me, King's work is relevant today not because of his poetic calls for us to be better human beings but because of his deep and searing analysis of what prevents us from being better human beings and a better nation. The problem is that we are acculturated to the supremacy of some and the oppression of others, the flow of capitalism instead of the flow of compassion, and our most base urgings toward violence instead of our inner callings toward peace.
Instead of relegating King to a single page in a history book or to a celebration once per year, we need to consider what King's "radical revolution of values" would look like. What might happen if we all became "maladjusted to injustice"?
_______________________________________________________________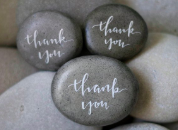 Thank you, Suzanne.
After thirteen years of dedicated service, Suzanne Hinton, Director of Academic Engagement, is leaving Emerson. In addition to her time as a member of the affiliated faculty at Emerson, Suzanne provided support and guidance to generations of Emerson Alternative Spring Break students, worked hand-in hand with numerous faculty across departments to develop service learning opportunities, and partnered with community-based organizations in the Boston area. She also played a critical role in the College obtaining Carnegie Classification as a civically engaged institution.
Suzanne has been an integral member of the Social Justice Center – bringing care, professionalism, and compassion to all aspects of her work and every interaction. Suzanne has served as our in-house photographer, the lone caretaker of the many plants on the Walker 10, and the person who reminds us it's time to tidy things up in the kitchen, to which we all immediately respond. She will be greatly missed for her kindness and support of all of us.
A few days ago, I asked Suzanne if she had any preference for what I might say about her time at Emerson in this announcement. She replied, "Well, you could say that I gave it the old college try…I learned a lot from some hilarious mistakes…and I became a much better listener." This represents the essence of who Suzanne is; she is self-effacing, puts others before herself, and has an incredible work ethic. I am so honored to have had the opportunity to work with Suzanne during her time at Emerson. We wish Suzanne peace and abundant joy in all of her future endeavors, and look forward to seeing her walking her dog, Muffin Top, in JP.
_______________________________________________________________
STAY TUNED FOR EXCITING NEWS FROM THE SOCIAL JUSTICE CENTER!
_______________________________________________________________

Title IX Update
Many of you are aware of the Department of Education's proposed changes to Title IX regulations. These regulations, if implemented as currently proposed, would likely reduce reporting of incidents, increase exposure to trauma for people reporting, create an imbalance of support based on access to resources, and significantly alter Emerson's handling of reports of power-based interpersonal violence. The proposed changes would require hearings in which parties are cross-examined by advisors. This shift has the potential to put Emerson staff members in offices beyond Title IX Access & Equity who are currently involved in the Title IX process into conflicting roles as process administrators, advisors, and supervisors. For more information about Emerson's Sexual Misconduct process and the proposed changes, please see www.emerson.edu/policy/sexual-misconduct and KnowYourIX.org. I extend thanks and appreciation to members of the Emerson community who submitted comments to the Department of Education.
This flux in the landscape of Title IX on a national level has had an impact on our ability to fill the Deputy Title IX Coordinator/Investigator position. The search remains open and we continue to review applications for appropriate qualifications. Reports of violations of the College's Sexual Misconduct Policy continue to be processed and investigated by a talented group of highly skilled external investigators. We will keep the community informed on our progress with this search.
_______________________________________________________________
Bias Report Update
"We are all wounded at times…many of us remain wounded in the place where we would know love."  bell hooks
During the Fall 2018 semester, the Social Justice Center received 18 reports of bias-related incidents. The vast majority of reports occurred in Emerson classrooms and involved bias based on gender identity and expression, and ethnicity and culture. Although reporting is down this semester from last fall, there was an increase in anonymous reporting this semester. Follow-up on non-anonymous reports may include the provision of support to the person(s) affected, education for individual(s) engaging in bias, or other actions.
If you have been impacted by bias and would like to connect to someone in the Social Justice Center and/or report your experience, you can do so by submitting a report at www.emerson.edu/bias with the option of remaining anonymous, emailing bias@emerson.edu, or calling (617) 824-8528.
Social Justice Center
Emerson College
(617) 824-8528